Thank God it's her, instead of Chris Martin
Continuing our Band Aid20 dissing theme from last week, here's this week's news.
Actually, we're not going to talk about that jizzrag of a record cause it's not worth it, instead we're going to talk about a real good cause.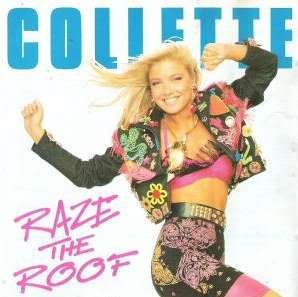 This is 80s Australian pop megastar Collette. We've never heard of her before (sorry), but are reliably ensured by the lovely Alyson over at
CFBgoespop
that she is/was aceness in a fetching top hat.
Now, in an effort to spread the word about her loveliness and do something for a good cause at the same time, Alyson has promised to do something. If 20 websites mention Collette, she has promised to sponsor a child in Africa. This means that if we and nineteen other surfers/bloggers/students/people with dossy jobs write something about Collette, a child in Africa will be clothed, immunised, fed and guaranteed a better future than they might otherwise expect.
So, Collette: we've never heard you sing, but your bumfreezer/box jacket and studded belt combo is something we're hearting right now. Your cunning clothing customisation is also bringing back nostalgic memories of 'fun foam' pens, pin badges and Blossom (remember her, the mini-Streisand). This means we like you already. You can stay.