It's a New Year
Yes, it's a bit late, but we never pretended to be less than rubbish, did we?

Anyway, it's been all change at Tough Love Towers. We've been promoted, declared ourselves single and were given a spice rack for Christmas. We've also had probably the first conversation about cake recipes ever to take place over gaydar's private messaging service.

We're also moving. So if anyone knows of a nice three bedroom place going in South Manchester we'll thank you kindly for the information.

(N.B. That's thank you kindly, not 'in kind'. Not that we're going to get offers, mind. Only we could sign up for the sluttiest website in existence and end up being invited to a gangbake instead of a gangbang.)

But to the point, it's 2005! No doubt you've all been making resolutions you won't keep and have been scouring the Sunday supplements for tips as to what's going to be big for the coming year. Well, forget predictions for Rooster, Jamie Scott and geometric jewellry. Here's the official Tough Love guide all things trendy about 2005.

1. Hilda Ogden scarves

Nelly's been wearing them backwards for years and must be getting bored of it by now. We predict that he'll be wearing fetching floral print rayon numbers knotted under his chin by November. They're Clog-tastic!

2. Socks in sofa adverts

Again, the out-of-work actors (and Linda 'Fucking' Barker, but we've blotted her out) have favoured 'soulful' bare feet and/or trendy sandal combinations for a number of years. Expect to see the return of black work socks with holes in the toe and thick white towelling numbers borrowed from the gay porn stars on the next set.

3. Celebrity Death Squad

A TV format that combines. the nation's love of celebrity with its Daily Mail fuelled hatred of all paedophiles/ asylum seekers / people who are a bit funny-looking, like. Anne Widdecombe, Caprice and Roland Rivron are kitted up with lethal weapons and night vision goggles. They then travel round the country hunting down and killing hate figures nominated by local rabble rousers - sorry, community groups. See the UK's murder rate soar for a good cause.


4. The Conservative Party

Only joking.

5. More middle-class pop stars

We have Jamie 'The Jazz Pixie' Cullum, we have Katie 'Call off the Mud guitarist, please!' Melua and we have Will 'Harder, harder!' Young. Can we have some more please? Ad executives up and down the land are crying out for wishy-washy pseudo soul to fill up the aching spiritual emptiness of kitchen adverts. A&R men want round vowels, good nutrition and concrete evidence you once went to a garden party with a minor Royal.

So come on down to Camden, all you ya-yas. Jobs in the City are so twentieth century.

6. Exciting new foodstuffs that taste 'a bit like chicken'

Because they always do, don't they?

7. Cybercooking

Following on from our experience . . . (This is what journalists do, isn't it? Have one conversation at a dinner party in Hammersmith and call it a trend) . . . it's official – Cybersex is over. This year, the UK's internet perv community will be eschewing cam wanks in favour of live demonstrations of soufflé-making techniques.

Look out for spam email saying "Watch Lola whip the egg whites into soft white peaks".

8. Patrick Wolf

This one's a serious one, folks. One of our latest discoveries – thanks going to the people over at Popjustice and Life Itself for alerting us to his general fabulousness.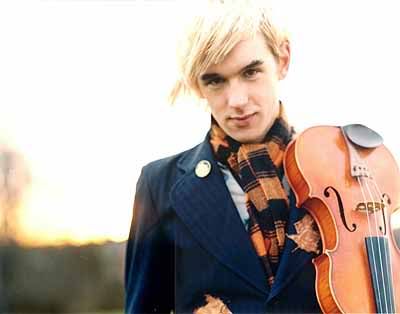 A young songwriter of potential genius who references werewolf folklore, Virginia Woolf and the dilemma of being young and underpaid in London. Drum 'n' bass beats mixed with recorders, accordions and an unaccountably sexy voice. Buy his first album Lycanthropy now! His second album The Libertine is out next month too, so that's two consecutive months of alt-music pleasure.

We're personally hoping he turns into the new Kate Bush (who incidentally is bringing a new album out in March – yet more good news!), and that he tours to Manchester very soon. So if you're reading this, Patrick dear (yeah, right) you've been told.